WE WELCOME BACK HARD TIMES CAFE OF SPRINGFIELD AS A SPONSOR!
Sponsor Request = Springfield Babe Ruth League
Recreational baseball for Springfield teens
Is there anything more exciting than going to a baseball game and watching a Derek Jeter or Steven Strasberg hit or pitch? One thing comes to mind: watching your own child play ball. Each of us has kids or has neighbors and friends with kids, and many of them love baseball. They can play it, first at the Little League level and then as they start to grow into teenagers, at the Babe Ruth league level.
For 13 to 18 year old kids who want to spend a spring or a fall in the 90 foot diamond, major league baseball regulation size, the Springfield Babe Ruth league gives them that opportunity to compete and thrive in a good learning environment. Each year, Springfield Babe Ruth fields more than a dozen teams and plays in competition for a local title. The best players get to be on an All Star team and face some even more rigorous competition.
The program is entirely voluntary. There's no office, no paid staff. The parents and other volunteers that run the program need the support of a community that recognizes that having active kids in an organized baseball program is a good thing. And we need your support as sponsors.
Would you please consider sponsoring a team or becoming a general sponsor of the Springfield Babe Ruth league as a community service. We need the money to support the program, to buy baseballs, to keep up the fields, and to provide the umpires that run the games.
In return, you get the connection to more than 100 families in this community where your business is located who recognize that you are supporting their kids and they are likely to come right back and think of you first when they are thinking about taking their business somewhere.
Regardless of the line of work you are in, this is a good civic involvement (and it's a tax deductible donation). What do you get? There are a number of levels to participate: You can have your name on the jersey of each player on a team, you'll be in our program and family mailings for one year, with your promotional messages (or discount offers for participating families), and this year, we're examining ways to get some banners up at our home field batting cage at Hooes Road Field.
Please e-mail our Sponsor Director, Myron Struck at Struckvail@aol.com for more information and forms.
SERVICE JOBS
Parents of players in Springfield Babe Ruth,
When you registered your player in the league we collected a fee of $50. I am now providing information on how you can get this fee back.
Please consult the web page at the following site and sign up for a job. Most jobs take about 3 hours. By doing so you will get back the $50 fee and also perform a service that will enhance the baseball experience for all the players in the league.
SBRL Wants You to Volunteer!
If you have signed up to manage, coach or umpire in our league, please complete below form, attach a copy of your Driver's License and mail to Karen Markey, 8848 Silverline Dr, Fairfax Station, VA 22039. Thank you.
SBRL is a quality program run by volunteers. Without you, the league will not run. The cost of providing Babe Ruth baseball to each player, is much more than the registration fee. Whether you have a little time or a lot, you can help. We are in need of volunteers to help at several positions to make it possible for yor children to play baseball. Please offer your help at registration or call 703-451-8325.
Important:
2017 Bat Rules for Babe Ruth
Before you purchase a bat, please read this information about
Approved and Non-Compliant Bats.
Due to the high frequency of illegal bats being identified in games, SBRL has decided to adopt rules, effective immediately for all SBRL home games. This rule is not about taking hits away or getting cheap outs as some coaches and parents grumble. It is about player safety first and foremost. We are therefore taking the pressure off the opposing managers to have to make an appeal and are directing all our umpires to strictly enforce these rules. It is our hope that this penalty is so harsh that the coaches will monitor their players' bat use more closely and ensure that these illegal bats do not even make it to the dugout.
Please be reminded that because a bat says BR approved does not mean it meets these standards. A composite barrel bat MUST have the BBCOR stamp.
Additionally, per the BR website:
Babe Ruth League, Inc. – All Divisions – If any bat in Cal Ripken Baseball, Babe Ruth Baseball or Babe Ruth Softball cannot be clearly identified for its make and model to determine the barrel composition, then the bat should be removed from the game.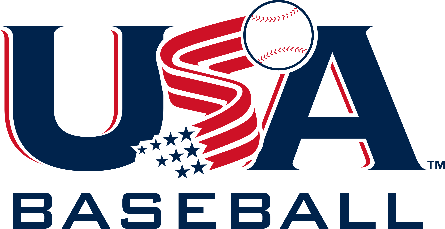 Implementation of USABat Standard Begins on January 1, 2018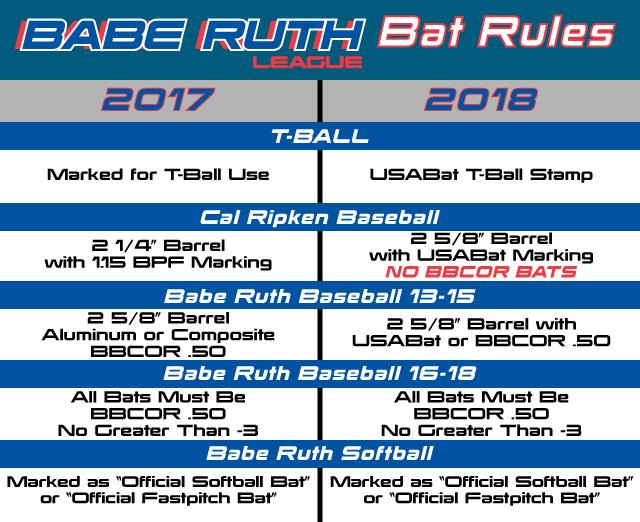 USA Baseball, the national governing body for the sport of baseball in the U.S., in conjunction with participating national member organizations (NMOs) announced the decision to adopt a new method for measuring bat performance in the testing of youth bats. Informed by the research of leading scientists on the USA Baseball Bat Study Committee, and supported by its NMOs, -- including the American Amateur Baseball Congress (AABC), Amateur Athletic Union (AAU), Babe Ruth Baseball/Cal Ripken Baseball, Dixie Youth Baseball, Little League Baseball and PONY Baseball -- USA Baseball has concluded that recent advancements in science, engineering, technology, and the materials available to fabricate non-wood bats, now allow the manufacturers to construct youth bats that can perform at a wood-like level through the entire range of lengths and weights of youth bats.
The new USA Baseball bat standard (USABat), which will apply to bats that are classified below the NCAA and NFHS level of play, will be implemented on January 1, 2018, allowing the bat manufacturers sufficient time to bring these bats to the marketplace.
The Cal Ripken Division of Babe Ruth League, Inc. have approved the use of the 2 5/8 inch barrel bats for local league play and tournament play beginning in January 2018 and coinciding with the new USA Bat standard.
Similar to the NCAA and NFHS BBCOR standard, which helped to eliminate discrepancies with different length bats and thus provide a more direct measure of bat performance, the new USA Baseball bat standard will allow youth baseball organizations in the United States to reach their goal of establishing a wood-like standard, a standard that will provide for the long-term integrity of the game.
It is important to note there will be no immediate change to youth baseball organizations' bat rules. All bats, currently accepted for the respective leagues, remain permissible through December 31, 2017. Each participating national member organization will incorporate the new standard into their rules for the 2018 season and will begin, with this announcement, to inform their membership of the USABat standard.
CLICK HERE FOR MORE INFORMATION